DXN Potenzhi - The Natural Male Enhancer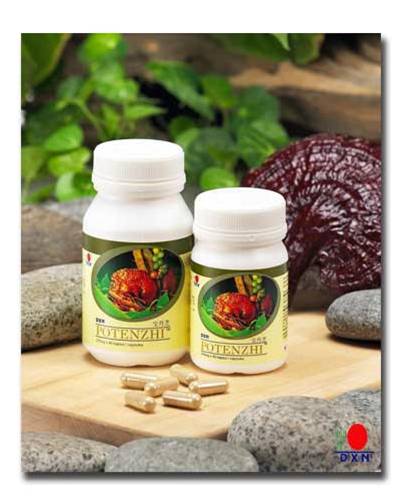 DXN Potenzhi
DXN Potenzhi is a powerful male enhancer and tonic supplement to revive your passion and vitality. It contains power-packed, highest potency and quality of Eurycoma longifolia Jack (Tongkat Ali) and Butea superba extracts, which are well known to boost up male physical strength.
This formulation is further reinforced with seven precious herb extracts which include Ganoderma, Cordyceps, black pepper, celery, green tea, root of lalang and stem of kayu secang. These herbs have been long treasured as an essential tonic to invigorate male performance and regain virility.
This unique blend of 9 pure herb extracts is specially formulated combination for its maximum benefits.
Daily consumption of DXN Potenzhi helps to:
improve blood circulation
 
boost up energy level and endurance
 
overcome mental fatigue and exhaustion
 
strengthen physical performance
Packaging size:

- 30 and 90 capsules per bottle.
DXN Potenzhi is also considered as the ultimate solution in restoring your male vigor. Let your performance soar with Potenzhi!
DXN products do not sell by facts alone,
DXN products sell by results!
DXN Global is the sole manufacturer of DXN Potenzhi Lingzhi as well as the other natural health products like the Lingzhi Coffee 3-in-1, Lingzhi Coffee 2-in-1, Lingzhi Black Coffee, Other Coffee Beverages, Lingzhi Coffee Recipe, Cocozhi,
The Spica Tea, Morinzyme, Spirulina Algae, Gano Massage Oil, Ganozhi Toothpaste, The Ganozhi Shampoo, Ganozhi Bath Gel or Body Foam, and The Ganozhi Soap
These health products are available only through authorized DXN Service Centers worldwide or through the International Networking System. Please check for the Service Centers near you to purchase this product or Contact Us to inquire for details on how to purchase with discount.
Disclaimer: The above mentioned product is a herbal food supplement designed to assist in the maintenance of general well being through regular use. This product is not intended to diagnose, treat, cure, or prevent any disease. DXN does not condone or advocate self-diagnosis or self-medication in any way. If you have a condition which requires medical diagnosis and treatment, it is important that you visit your healthcare professional.
Potenzhi - The Natural Male Enhancer Supplement with Red Mushrooms
Return to Home page now.
Vig RX Plus™ | VigRX Plus™ Ingredients |Penis Pills | Sexual Performance
Controlling Premature Ejaculation | Erectile Dysfunction | Penis Enlargement | Penis Enhancement
Sex Drive | Penis Enlargement Works | Volume Pills
Volume Pills work | Volume Pills Review
Keywords: male enhancer, potenzhi, libido enhancer, sex enhancement supplements, female body parts