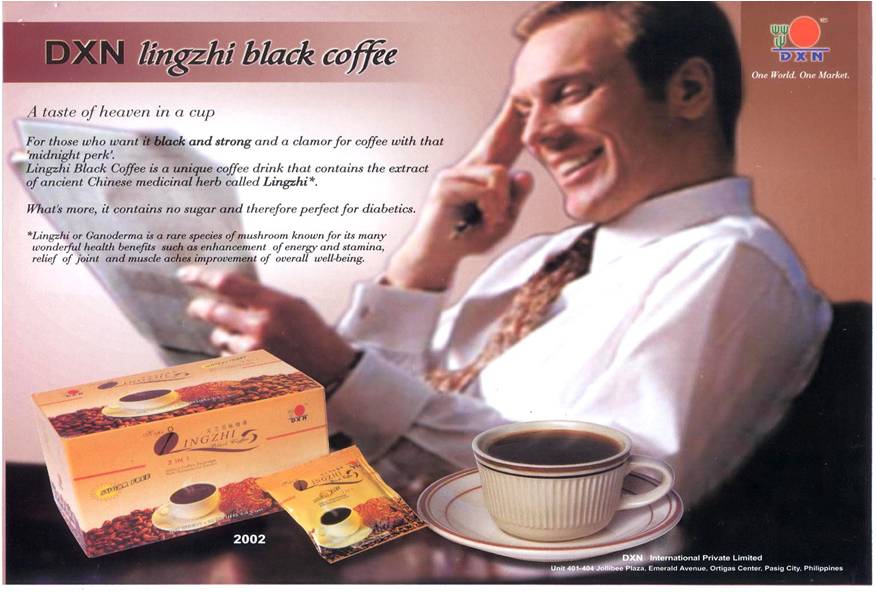 The Healthy Black Coffee
The Lingzhi Black Coffee is an organic coffee (healthy coffee) beverage uniquely blended with the finest coffee beans and Ganoderma (Red Mushrooms) extracts.
It's sugar-free! Great for those who are watching their high glucose (blood sugar) levels. The Coffee is packaged individually in small sachets for instant satisfaction and everyday-use consumption and convenience.
In addition, you can bake cream buns with Lingzhi Black coffee.
Ingredients:
Instant Coffee and Ganoderma Extract... NO SUGAR!
Preparation: Empty one sachet Lingzhi Black Coffee into a cup. Add 6 - 8 fl. oz. hot water while stirring. For most individuals, one sachet makes 2 cups of coffee.
DXN Global has produced more variety of healthy coffee products that will suit your taste and you can choose from. They are the following:
DXN Global is the sole manufacturer of Lingzhi coffee 3-in-1, Lingzhi Coffee 2-in-1, Lingzhi Black Coffee, Vita Café, ZHI Mocha, EuCafé and Cordyceps Coffee 3-in-1. These healthy coffee products are available only through authorized DXN Service Centers worldwide or through International Networking System. Please check for the Service Centers near you to purchase this product or Contact Us to inquire for details on how to purchase with discount.
While it's fun to drink any of these coffee anywhere and anytime, you can make a good business out of them. Join DXN now to find out and start your own business.
The Lingzhi Black Coffee is a Reishi Coffee
Return to Home page now.
Ganotherapy | Ailment Reflection | Ganoderma Safety | The Immune System | DXN Health Products | DXN Global | DXN International Branches | DXN International Stockists | Network Marketing | DXN in Canada | Contact Us | Dr. Lim Siow Jin | Blog | Sponsored Links | Sitemap | Donation | Build A Website | Firefox 3 | Privacy