Network Marketing
It is the booming business of the 21st century...
Network marketing is a strategy that compensates promoters of direct selling companies for product sales they personally generate, and for the sales of others they introduced to the company. It can lead to generating a passive income.
The former U.S. President Bill Clinton himself endorsed networking/ direct-selling business.
So, just sit back, relax, and watch these videos to find out why and how it is happening...
"10 Million New Millionaires will be created by 2016 (doubling 2007 totals) by the converging trends in wellness and network marketing."
Paul Zane Pilzer - A World-Renowned Economist
Are you ready to be one of them? Or, are you going to "miss" it simply because you didn't catch the trend?

DXN Global is one of the growing Network (MLM) Marketing companies worldwide. It has a unique marketing plan or distribution system:
Legal International Multi-Level Marketing

No Middle Man & No Boss

No Traditional Outlets

No Advertisements

A Word-of-Mouth Business

Work part-time, full-time and anytime

Work at home, anywhere and everywhere

A LIFETIME business opportunity that can be transferred to anyone
But, why DXN MLM? DXN business is based on promotion and sales of products (as mentioned above) that are active and dynamic "Direct-Selling" strategy through its consumers' network by doing retail sales and/or sponsoring new DXN members/distributors.
A DXN distributor can do it by the simple substitution technique illustrated below.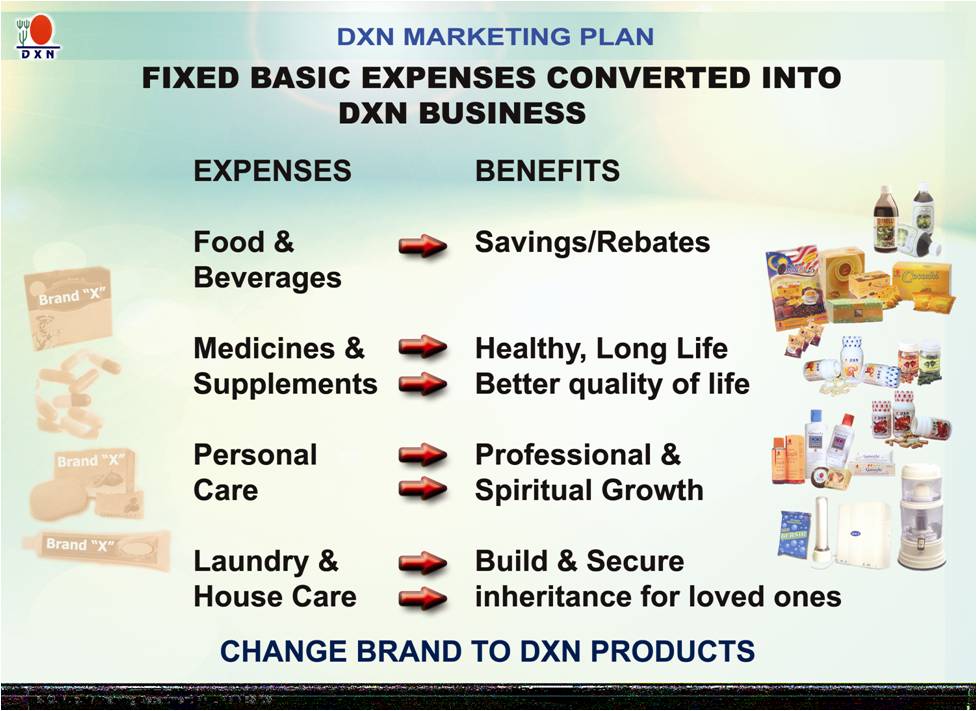 DXN shares its profits to the distributors by following the business plan. It diverts the advertising expenses as commissions and bonuses to the distributors. But the primary key to this progress is the production of diversified quality products with cost-effective pricing.
Features of DXN Marketing Plan

- Global Plan - One World One Market, One Global Network
- Energy Saving Plan- With upward compression mechanism
- Low Pressure, High Reward - Low maintenance, high % of bonus payout
- Enjoy Worldwide Profit Sharing And Overriding - International profit sharing, Leadership Bonus etc
- Reward For Depth Expansion - Overriding bonus not limited to 5 generations
- Better Reward For Width Expansion - Overriding % proportional to number of qualified lines
- Flexible Network- Reward for both width and depth expansion
- Fair Plan - Downline can overtake upline after they breakaway
- Low Breakaway Target- Easily promoted and breakway from upline
- Achievable Plan - Low target for promotion, low monthly maintenance for bonus
- Retirement Plan- For high rank distributor, qualification PV can be borrowed
- Win Win Plan - When downline promoted, upline will get better reward with higher %.
- Combination Of static & Dynamic Plan - No drop in % for Distributor (6% - 21%); for SA and above, they are able to get higher % for better performance
- 14 Ranks For Promotion - More recognition for distributors
- Two Travel Seminar Incentives For Different Categories Of Qualifier - Taking care of both higher and lower level distributors

DXN - The Network Marketing Company in Wellness Industry

Back to Home page now

Ganotherapy  Ailment Reflection  Ganoderma Safety  The Immune System  DXN Health Products  DXN Global  DXN International Branches  DXN International Stockists  Network Marketing  DXN in Canada  Contact Us  Dr. Lim Siow Jin  Sponsored Links  Sitemap  Donate Build A Website  Privacy

top network marketing, DXN Global, mlm opportunities, business to business site, facebook