Ganozhi Complete Skin Care Series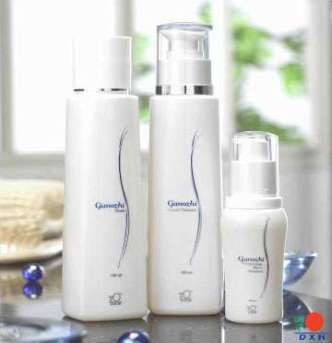 The Ganozhi Complete Skin Care Series
Simple steps to endless beauty™
Skin is the largest organ in our body. It acts as a barrier that surrounds and protects our body from various harmful elements in the environment. Truly beautiful skin starts from deep within you and has a great deal to do with balanced diet, good digestion, sound hormone level and choosing the right skin care for your skin.
DXN proudly introduces Ganozhi™ Complete Skin Care Series, a botanical skin care formulation, to fulfill your daily basic skin care needs. It is suitable for all skin types.
Ganozhi™ Liquid Cleanser 150 ml
A gentle yet effective cleanser for a swift cleansing action. It is formulated with precious Ganoderma extract, Fagus sylvatica extract, yeast and panthenol. It cleanses your skin deep into the pores, leaving your skin clean and refreshed.
Ganozhi™ Toner 150 ml
An effective toner formulated to minimize skin pores while leaving your skin soft and hydrated. Formulated with quality Ganoderma extract, Fagus sylvatica extract, allantoin and propolis cera. Ganozhi™ Toner balances your skin pH and moisturizes your skin.
Ganozhi™ Moisturizing Micro Emulsion 50 ml
A renovated moisturizer designed to hydrate and nourish your skin. It is empowered by the latest technology (i.e. nanotechnology), which helps to maximize the absorption of ingredients of Ganozhi™ Moisturizing Micro Emulsion. Designed with nano-sized molecules, it penetrates into your skin faster and effectively. Ganozhi™ Moisturizing Micro Emulsion gathers the goodness of the Ganoderma extract, Fagus sylvatica extract, ginseng extract, arnica extract and Vitamin E, leaving your skin smooth and radiant all day long.
DXN Global is the sole manufacturer of The Ganozhi Complete Skin Care Series and other natural health products including Lingzhi Coffee 3-in-1, Lingzhi Coffee 2-in-1 Lingzhi Black Coffee, Other Coffee Beverages, Lingzhi Coffee Recipe, Cocozhi Chocolate Drink, The Spica Tea, Morinzyme, Spirulina Algae, Gano Massage Oil, Ganozhi Toothpaste, Ganozhi Bath Gel or Body Foam, and Ganozhi Soap.
These health products are available only through authorized DXN Service Centers worldwide or through International Networking System. Please check for the Service Centers near you to purchase this product or Contact Us to inquire for details on how to purchase with discount.
Make money on DXN products! While it's fun to personally use any of these products, you can make a good business out of them. Join DXN now to find out and start your own business.