DXN Coffee Beverages
"Start your day with DXN Coffee Beverages."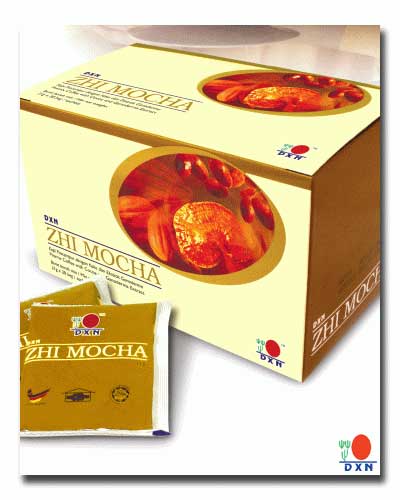 Zhi Mocha - The Chocolate Coffee
DXN Zhi Mocha is a variety of Lingzhi coffee specially concocted for coffee lovers who love the taste of chocolate as well. This rich and aromatic Zhi Mocha is blended with instant coffee powder made from the selected coffee beans, ganoderma extract and cocoa powder. Now, coffee lovers can savour and enjoy the difference of this exquisite Zhi Mocha without the overly rich feeling.
With iced coffee becoming popular these days , you can try adding ice cubes to a cup of Zhi Mocha. It is definitely a good choice to cool you down in a hot afternoon. Whether hot or cold, Zhi Mocha has a creamy, sweet and unique taste with a slightly bitter after taste. Aside from DXN Lingzhi Coffee, DXN Zhi Mocha would definitely be another choice of beverage to delight your daily habit ! 
Ingredients of Zhi Mocha:
Instant Coffee, Ganoderma Extract, Cocoa Powder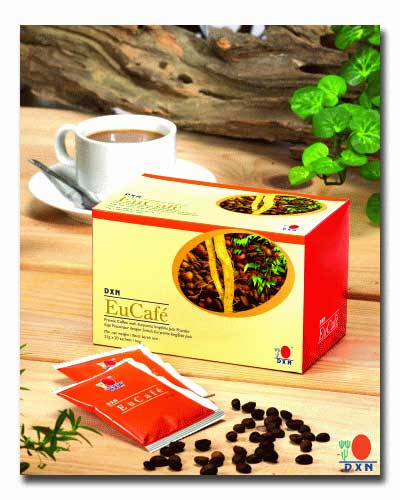 EuCafé Coffee Beverage
Get Energized!
DXN brings first-rate Tongkat Ali product - EuCafé. This product is a perfect blend of the extracts from selected Tongkat Ali roots and premium quality coffee powder in a premix instant coffee packet for easy preparation and consumption. Together with its delicious and aromatic coffee flavour, EuCafé is certainly a natural beverage that you simply can't resist!
Ingredients of EuCafé:
Instant Coffee, Tongkat Ali Extract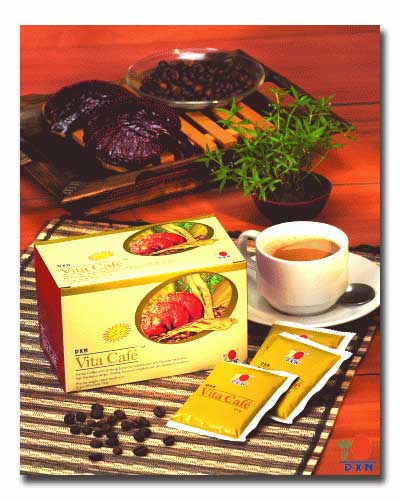 Vita Café Coffee Beverage
Have you "Vita" Today?
Vita Café is the latest, great tasting natural coffee, brought to you by DXN! It is a unique blend of high quality Ginseng and Tongkat Ali powder with Ganoderma extract. DXN Vita Café is conveniently prepared in the form of premix coffee for easy consumption. All you need is to add the instant powder of Vita Café into a cup of hot water to experience the rich aroma of Vita Café. Why hesitate? Start your "Vita" life today!
The uniqueness of DXN Vita Café!
An exclusive 6-in-1 coffee added with Ginseng, Tongkat Ali and Ganoderma extract.
A refreshing drink with exquisite traditional flavour and delightful distinctive aroma.
It is easy to prepare - enjoy it at home, work, anywhere and anytime you want a cup of hot gourmet coffee.
It is exciting and versatile - you can enjoy it hot, ice-cold, ice-blended or chilled!
Only selected high quality ingredients are used.
It is free from additives and preservatives.
A complete natural health drink and is suitable for daily consumption.
Ingredients of Vita Café:
Instant Coffee, Ganoderma Extract, High Quality Ginseng, Tongkat Ali Powder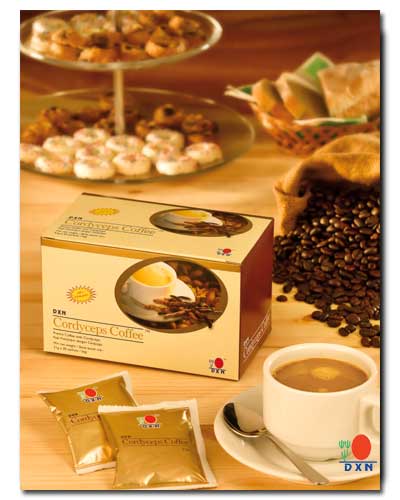 Cordyceps Coffee Beverage
DXN Cordyceps Coffee 3 in 1 is specially formulated from instant coffee powder added with Cordyceps extract. This unique formulation makes a smooth and aromatic coffee to zest up your day by:
Increasing energy level
 
Overcoming fatigue
 
Creating alertness
 Ingredients of Cordyceps Coffee:
Instant Coffee, Cordyceps, Non-Dairy Creamer and Sugar
 
The DXN coffee varieties can be used in baking several Lingzhi Coffee Recipe.
DXN Global is the sole manufacturer of DXN natural health products like the Lingzhi Coffee 3-in-1, Lingzhi Coffee 2-in-1, Lingzhi Black Coffee, Other Coffee Beverages, Lingzhi Coffee Recipe, Cocozhi Chocolate Drink, The Spica Tea, Morinzyme, Spirulina Algae, Gano Massage Oil, Ganozhi Toothpaste, Ganozhi Gel or Body Foam, The Ganozhi Soap.

These health products are available only through authorized DXN Service Centers worldwide or through International Networking System. Please check for the Service Centers near you to purchase this product or Contact Us to inquire for details on how to purchase with discount.
While it's fun to drink any of these coffee anywhere and anytime, you can make a good business out of them. Join DXN now to find out and start your own business.
DXN is the maker of healthy coffee beverages
Return to Home page now.
Ganotherapy | Ailment Reflection | Ganoderma Safety | The Immune System | DXN Health Products | DXN Pharmaceutical | DXN International Branches | DXN International Stockists | Network Marketing | DXN in Canada | Contact Us | Dr. Lim Siow Jin | Blog | Sponsored Links | Sitemap | Donation | Build A Website | Firefox 3 | Privacy

Keywords: Coffee beverages, caffiene, brazilian coffee, coffee drinks, tongkat ali