Spica Tea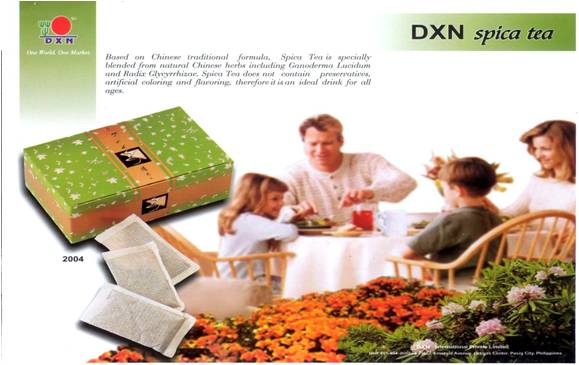 Based on Chinese formula
The Spica Tea is specially blended from natural Chinese herbs including Ganoderma Lucidum (with more than 400 bioactive compounds) and Radix Glycyrrhizae, etc. It is mild and gentle, and does not contain caffeine, preservative, artificial coloring and flavoring, therefore it is an ideal drink for all ages and genders.
Ingredients:
Preparation:
Place 1 Spica bag in 2 liter boiling water. Allow to stand for 30 minutes. Serve while hot.

DXN Global is the sole manufacturer of DXN natural health products including the Lingzhi Coffee 3-in-1, Lingzhi Coffee 2-in-1, Lingzhi Black Coffee, Other Coffee Beverages, Lingzhi Coffee Recipe, Cocozhi Chocolate Drink, Morinzyme, Spirulina Algae, Gano Massage Oil, Ganozhi Toothpaste, The Ganozhi Shampoo, Ganozhi Bath Gel or Body Foam and The Ganozhi Soap.
These health products are available only through authorized DXN Service Centers worldwide or through International Networking System. Please check for the Service Centers near you to purchase this product or Contact Us to inquire for details on how to purchase with discount.
Make money on DXN products! While it's fun to drink any of the tea or coffee anywhere and anytime, you can make a good business out of them. Join DXN now to find out and start your own business.
Spica Tea with the Red Mushrooms

Return to Home page now.


Ganotherapy | Ailment Reflection | Ganoderma Safety | The Immune System | DXN Health Products | DXN Global | DXN International Branches | DXN International Stockists | Network Marketing | DXN in Canada | Contact Us | Dr. Lim Siow Jin | Blog | Sponsored Links | Sitemap | Donation | Build A Website | Firefox 3 | Privacy