DXN Cordyceps Coffee
The Cordyceps Coffee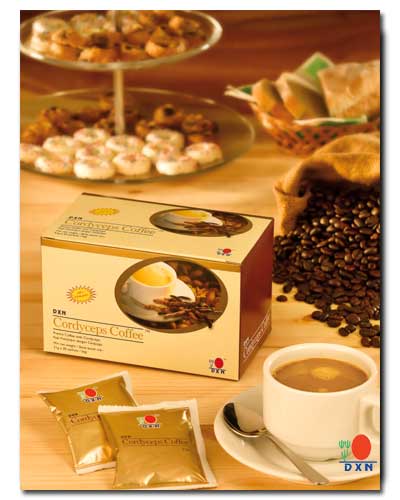 DXN Cordyceps 3-in-1 Coffee is specially formulated from instant coffee powder added with Cordyceps extract. This unique formulation makes a smooth and aromatic coffee to zest up your day by:
Increasing energy level

Overcoming fatigue

Creating alertness
Ingredients of Cordyceps 3-in-1 Coffee:
Instant Coffee, Cordyceps, Non-Dairy Creamer and Sugar
The DXN coffee varieties can be used in baking several Lingzhi Coffee Recipe.
DXN International is the sole manufacturer of DXN natural health products like the Lingzhi Coffee 3-in-1, Lingzhi Coffee 2-in-1 Lingzhi Black Coffee, Other Coffee Beverages, Lingzhi Coffee Recipe, Cocozhi Chocolate Drink, The Spica Tea, Morinzyme, Spirulina Algae, Gano Massage Oil, Ganozhi Toothpaste Ganozhi Gel or Body Foam, The Ganozhi Soap
These health products are available only through authorized DXN Service Centers worldwide or through International Networking System. Please check for the Service Centers near you to purchase this product or Contact Us to inquire for details on how to purchase with discount.
While it's fun to drink any of these coffee anywhere and anytime, you can make a good business out of them. Join DXN now to find out and start your own business.
The Cordyceps Coffee page. Back to home page now.
Ganotherapy | Ailment Reflection | Ganoderma Safety | The Immune System | DXN Health Products
DXN Pharmaceutical | DXN International Branches | DXN International Stockists | Network Marketing
Contact Us | Dr. Lim Siow Jin | Sponsored Links | Sitemap | Donation | Build A Website | Privacy

Keywords: dxn coffee, roots, natural, organic