Your Dream Filter and Air Purifier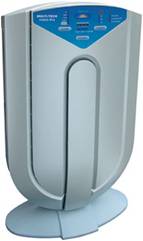 The Most Advanced Purifier (Decorative Design)
This Air Purifier is a must for all rooms, offices, clinics, laboratories, etc. as the indoor air we breath-in should be free from air pollutants that are invisible to the eyes. Breathing clean air is very essential to good health.
New! Multi-Tech Intelli-Pro Purifier
Intelligent Purifier, Air Filter and Air Cleaner



The Most Complete Purifier on the Market - Advanced Sensor Technology and Six Leading Technologies.
Sensor Technology: Sensors are in place to monitor air quality, detect certain types of pollutants, and to indicate when the filter or bulb need to be replaced.
Six Leading Technologies: With six air purification functions, there is a technology for virtually every type of airborne pollutant.
Technologies include HEPA filter, activated carbon filter, ionizer, germicidal UV light, washable electronic dust collector and washable pre filter.
Find out the different advanced models that suits the size of your room. Combo prices are available at discounted prices while supply lasts.
Fresh and Clean Air free of:
| | |
| --- | --- |
| Viruses, Bacteria and Germs | |
| | Easy Maintenance and Cleaning |
| Mould, Fungi and Mould Spores | Absolutely Noiseless Operation |
| | Very Low Power Consumption |
| Cigarette and Cigar Smoke | Extremely Light Weight and Handy |
| Chemical fumes and Vapors | 1 Month Money Back Guarantee |
| | |
The Air Purifier page... Back to Home page now